3rd April 2019
Circuits created using the Web Editor can now be viewed or exported as a circuit netlist.
Netists describe how components in a circuit are connected together, and are commonly used for circuit analysis, simulation and PCB design.
The circuit details page also shows a rendered view of the circuit with each of the netlist nodes marked on the circuit visually.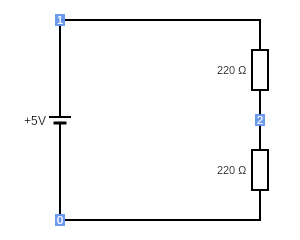 The above circuit is represented by the following netlist:
V1 1 0 5
R2 2 0 220
R3 1 2 220

Continue reading